About Us
Welcome to Bible Baptist Church! If you are seeking a church that is large enough to offer a variety of ministries, yet small enough to offer personal attention to you or your family then this may be the place for you. We exist to inspire people to develop a heart for God! We offer an exciting adult ministry, a college age ministry, a vibrant youth ministry, and children's programs. Your whole family can find a place to grow centered around God's Word!So come on by! You will find a loving family atmosphere with a focus on spiritual growth and fellowship. We hope to see you soon!
When are your services?
Our main worship service is Sunday mornings at 10:35
9:30 AM Classes for All Ages
10:35 AM Morning Worship Service
6:00 PM Evening Service
7:00 PM Growth Groups for All Ages
Senior Pastor, Ivan Yoder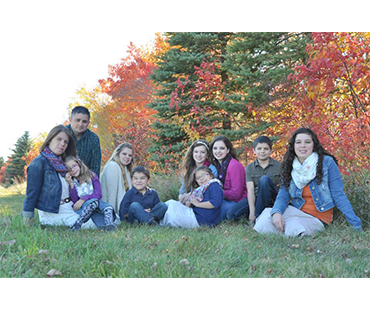 About Our PasTor
Pastor Ivan Yoder has been in ministry for almost 20 years. He accepted the call to Bible Baptist church in Brookings in September of 2014. His goal is to see people saved, added to the church and most importantly grow in their own walk with God. Through a variety of activities, preaching, soul-winning, and one-on-one counseling he wants to see God work in dynamic ways.His wife Katie is an integral part of his ministry, having worked in children's ministries and ladies ministries. They have 6 girls and 2 boys, Hannah, Sarah, Lydia, Naomi, Timothy, Barbara, Molly, and Micah.
Purpose and Beliefs
Bible Baptist Church is an independent, Bible-believing Baptist church, conservative in its music, existing to glorify God and edify saints.
We believe the Bible is the Word of God in its entirety; infallible, verbally inspired, and inerrant in all that it affirms as originally written, and fully authoritative. Psalm 119:89; Romans 15:4; I Corinthians 10:11; II Timothy 2:15, 3:15-17; I Peter 1:23-25; II Peter 1:21.
We believe there is one God, eternally existing in three persons: the Father, Son, and Holy Spirit. We believe this God is the Creator of all things, including man, for His own pleasure and purposes. Genesis 1:1, 26; Deuteronomy 6:4; Matthew 3:16, 28:19; John 5:18; Acts 5:3,4; Romans 1:20; Philemon 2:6.
We believe that Jesus Christ is the Son of God and God the Son, that He was born of a virgin, lived a sinless life, died on the cross as our substitute and sin-bearer, rose bodily from the grave, ascended into heaven, and is coming again. We believe in the imminent, visible and physical return of Jesus Christ according to the Scriptures. Matthew 1:20; Luke 1:34,35; John 1:1, 3:16, 11:25; Acts 1:3,9, 16:31; I Peter 2:22; I John 3:5; Revelation 1:7.
We believe that our first parents, Adam and Eve, fell into sin through disobedience to God's will, and that all people are sinners by nature as well as by choice. Apart from the saving grace of God, we are eternally lost and destined for hell. Genesis 1:26; Psalm 50:15; Matthew 5:16; Romans 3:23,15:6; Revelation 4:11.
We believe that all who receive Jesus Christ as Lord and Savior by grace through faith are born again into the family of God and from that moment on possess an eternal home in heaven that awaits them. John 1:12, 3:8, 6:40, 14:6; Ephesians 2:8-9; Isaiah 53:5-6; I Peter 2:24; II Peter 3:9.
We believe the local church is a body of believers in Jesus Christ, whose purpose it is to exalt God in worship; to edify the saints through biblical instruction, prayer and fellowship; to evangelize the lost by testifying to the grace of Christ; and to extend the reach of the church through missions. We believe in the spiritual unity of all believers in our Lord Jesus Christ. Matthew 28:17-20; Acts 2:41-42; I Corinthians 12:12-31.
We believe that the Lord Jesus Christ has committed two ordinances to the local church, baptism and the Lord's Supper. We believe that Christian baptism is the immersion of a believer in water in the name of the Triune God. We believe that the Lord's Supper was instituted by Christ to commemorate His substitutionary and atoning death. We believe that these two ordinances should be observed and administered until the return of the Lord Jesus Christ. Acts 8:26-40; Romans 6:3-5; I Corinthians 11:17-34.
Do you Know for sure?
We have all sinned.
For all have sinned, and come short of the glory of God.
-Romans 3:23
God's Word reminds us that we all have sinned. We have all fallen short of God's requirements, for at one time or another, we have all deliberately chosen to disobey God.
There is a price for sin.
For the wages of sin is death, but the gift of God is eternal life through Jesus Christ our Lord.
-Romans 6:23
A wage is a payment. The payment for your sin is death and separation from God in a place that the Bible calls Hell.
And death and hell were cast into the lake of fire. This is the second death.
-Revelation 20:14
Jesus paid that price.
But God commendeth his love toward us, in that, while we were yet sinners, Christ died for us.
-Romans 5:8
The word commendeth means "proved." God proved His love for you by giving His own Son, Jesus, to die on the cross for your sins.
We must believe in Jesus.
That if thou shalt confess with thy mouth the Lord Jesus, and shalt believe in thine heart that God hath raised Him from the dead, thou shalt be saved.
-Romans 10:9
To believe on Jesus Christ as Savior means to believe that He died for you, believe that He paid the price for your sin, and believe that He is the only way to Heaven. You can express your belief on Jesus by calling on Him in prayer.